General Tourist guide Training is comprised of 3 levels as outlined below
Tourist Guide Level 1 (one)
This training prepares an individual to handle clients and is able to recount the history and current affairs of Uganda, identify tourist attractions in Uganda, locate tourist attraction sites, and communicate with tourists in their preferred language of choice.
Assessment is done by the Directorate of Industrial Training (DIT) and Licensing is done by Uganda Tourism Board. All guides must be assessed in their levels of competencies before they are licensed.
The Level 1 Tourist Guides training has been designed in line with the Tourism Act and is intended to prepare all those that are interested in joining the guiding profession or are willing to be prepared for assessment level 1 (one).
Who should attend
Anybody who is interested and is willing to be trained and all the training will be conducted in English.
What is included
Tuition
Food
Accommodation
Stationary
Field trips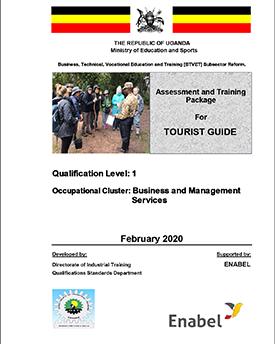 Tourist Guide Level 2 (two)
This training prepares an individual to be able to describe, interpret and explain tourist attractions.
Who should attend
Those who have passed level 1 assessed by DIT
For more details on the upcoming course please contact us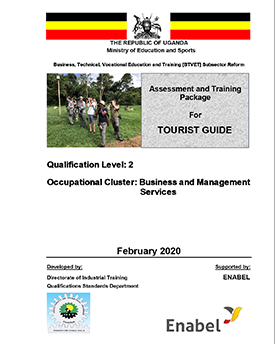 Tourist Guide Level 3 (Three)
On completion of this training, an individual should be able to conduct a project, develop a concept for tourism, research and design a guided experience at a tourism destination and analyze tourism attractions.